Revolutionary War History:
Welcome to 13 Fires Burn On a site dedicated to The American Revolution 1775-1783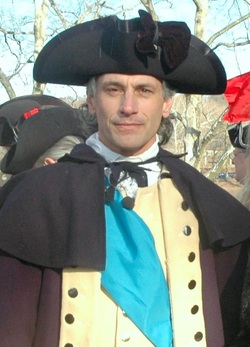 Portraying General Washington
The American spirit that started in the 13 colonies, which the Powatomi Indians called the
13 fires
, over 250 years ago began an experiment that has survived and still burns on today making the United States the greatest nation in the world.
The American Revolution was just one act in a sequence of events that created our nation. Many of our country's first heroes and traditions emerged from this war. The brave soldiers that served under General George Washington were the first American soldiers to serve this country. General Washington's army was our country's first American Army. The American military tradition was born and formulated in this war for American Independence. Finally, the early Republican Ideology and our Democratic tradition that has allowed freedom to stay alive for so many gained its foundations in this period.
In an attempt to keep this history alive and teach the importance and values of what our country's founding fathers created, Ron Rinaldi has developed several programs and presentations suited for speaking engagements at schools, civic organizations, and historical and holiday events.
(
Photo above
: Ron portraying General George Washington at the annual
Washington Crossing Reenactment
Dec. 2008)

Washington Crossing the Delaware Reenactment at the following link:
http://videos.nj.com/star-ledger/2011/12/george_washington_crosses_dela.html
---
Dr. Ronald Rinaldi is currently Principal at The Center School, a private school for learning disabled students, located in Somerset County, New Jersey. A certified special education teacher and supervisor, Ron has taught US History 1, US History 2, and World History for the 9th-12th grade students attending the school.
Prior to teaching at The Center School, Ron's teaching experience included adjunct history instructor at Warren County Community College, Union County College, Raritan Valley Community College, and a high school history teacher at The Pennington Prep School.
Dr. Rinaldi has a B.A. and M.A. in history and his Ed.D. in Educational Leadership.




---